The Recycled Part
Tuesday, July 21, 2015
B&R Auto Wrecking Has More German Auto Parts for You!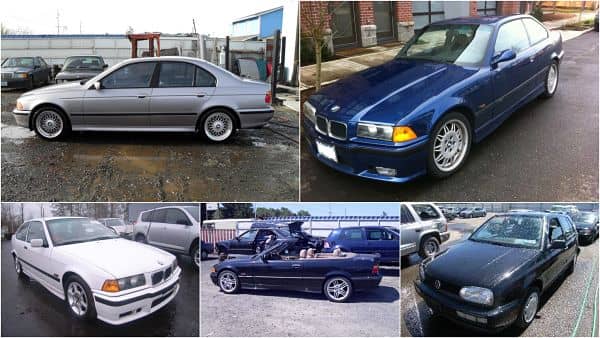 B&R Auto Wrecking has acquired the assets of German Auto Salvage, an Oregon based auto recycler. This facility neighbors B&R's existing Boring, Oregon location, just outside Portland. German Auto Salvage was known for being the largest German auto salvage yard in Oregon, specializing in used auto parts, engines, and transmissions for BMW, Volkswagen, Mercedes-Benz, and more. A few of the vehicles available to pull used parts off of are featured above. From being in business more than 20 years, GAS developed a reputation for great customer service and became a stand out, family-owned business. B&R Auto Wrecking is determined to carry on the same legacy of great service, meeting the needs of customers who own German made vehicles.
"The GAS warehouse and land will immediately be incorporated into the existing B&R site, "said Brian Perlenfein, Senior Business Advisor for B & R Auto Wrecking. "It is exciting to grow this location. We had a need at this facility to have more shelf space, more room to store auto parts – this helps overcome that challenge." Perlenfein explained that the fence in between the facilities will simply be removed, and some updates will be done on the German Auto Salvage side in order to safely store parts and more vehicles.
With B&R's extensive delivery network and low shipping rates, now customers with German made vehicles all over the US will be able to reap the benefits of this new acquisition! B&R Auto Wrecking specializes in used auto parts, engines, and transmissions and operates 14 locations in Oregon, Washington and Nevada. With over one million parts in inventory, 350 employees and 40 delivery vehicles, the family owned and operated business strives for excellence in every order.
Contact B&R with your German auto needs and find your used parts solution today!